Tutorial
Another solution: the Powerline kit
This consists of two boxes which use the electricity cabling as a network. The first unit is connected to the modem with an ethernet cable and plugged into a nearby electrical outlet. The second is connected to an electrical outlet in the area (in your home) where you want extended Wi-Fi coverage.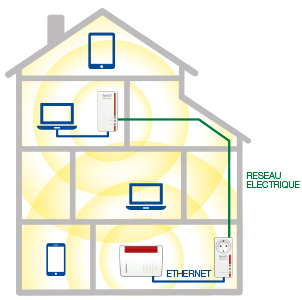 Advantages
Discreet, very easy to install, the boxes connect to any electrical outlet.
Disadvantages
A high quality electrical installation is needed to use it.